A Tampa Bay Area Newspaper
? year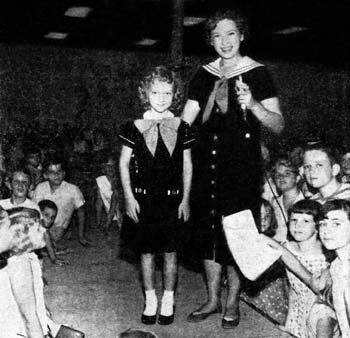 Mary Ellen, famous television star, can be seen here as she emceed at a recent children's fashion show held at North Gate Shopping Center at Maas' Children's World. Fashions were shown for the littlest tot all the way up to young misses! Many parents were present for the occasion and were delighted by the show put on by the youngsters. A good time was had by all, including the models!
---
Watercolor by Nancy Branson (Colchagova)
---

Watercolor by Nancy Branson (Colchagova)
TAMPA SUNDAY TRIBUNE
Sunday, April 28, 1957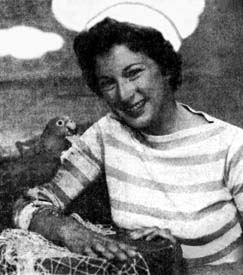 INTRODUCES POPEYE PLAYHOUSE--Popeye Playhouse, new series of cartoons featuring muscular little sailor Popeye, will be programmed on WTVT Monday through Friday afternoons from 5:30 to 6 o'clock and Saturday mornings from 10 to 10:30 beginning tomorrow. Mary Ellen and her as-yet-unnamed parrot will introduce each chapter.
---
Tampa Bay Magazine
? year

Mrs. Clyde L. Sussex (more familiarly known to the young TV audience as Mary Ellen) photographed at her country club, the Silver Lake Golf and Country Club . . . Mary Ellen is photographed on the patio in a knit ensemble consisting of a camel jacket with white reveres piped in charcoal, a white knit shell, and a charcoal grey pleated skirt . . . from the sports collection of Wolf Brothers.
---
TAMPA BAY AREA NEWSPAPER
March 4, 1957